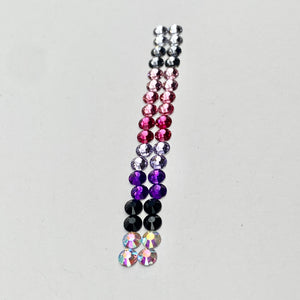 On Sale
Rhinestone by Design - Amethyst Geode - Rhinestone Set
We heard you guys asking, and we delivered! Brand new from LittleLee and Rose, we'd like to introduce a rhinestone set that provides you with the layout and coordinating rhinestones to create your very own fully rhinestoned tumbler! Prefer a little more guidance than just following the map? We have a sublimation print available so you can put the map right on the cup and glue the rhinestones on over it!  CLICK HERE!! 
This set includes:
Nine individually packaged colors of SS16 resin rhinestones (you will receive the amount of rhinestones needed to complete the design, plus extra, for just in case)
One pattern map/guide, so you can follow along and rhinestone by row!
THIS SET DOES NOT INCLUDE A TUMBLER. If you would like the 20oz tumbler bundle, you can find it by clicking HERE. 
Please note that rhinestone and tumbler exact measurements do vary and may cause your design to need 1 more or 1 less rhinestones than the template shows. This should not affect the overall look and, you will have enough of each color to accommodate this possible fluctuation.
The Design/pattern/template is a guideline only. Template is based on a 20oz Skinny Straight tumbler with SS16 resin rhinestones. You can add column(s) or row(s) to fit your tumbler. Place your rhinestones by following the pattern horizontally row by row.
Template is a guideline and not guaranteed to fit all sizes, styles, or brands of tumblers.