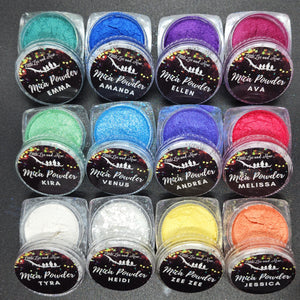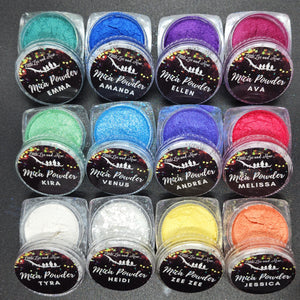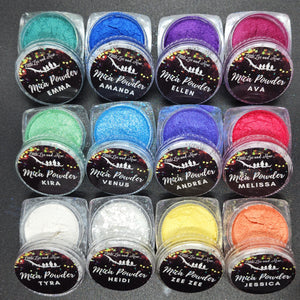 On Sale
Mica Palette - Tides and Sunsets
This palette of Beautiful Micas was inspired by the ocean and the sunset over the ocean. Previous fan favorites; Tyra, Kira, Venus, Heidi, Ellen, and Zee Zee brought in their new Besties; Melissa, Jessica, Andrea, Amanda, Emma and Ava to create this show stopping mica palette.
Mica powders are super versatile, soft and add a shimmery hue to any project.
These powders can be mixed with just about any medium and applied to most surfaces to create depth, shine, shimmering pearlescence and much more! Unlimited Uses: Jewelescent mica pearl powder pigment may be mixed into many mediums such as paint, epoxy resin, glue or paste to create a pearlescent or metallic finish
Start with a small portion of mica powder first to mix with the resin. Depending on how opaque you want it to be, add a few more. ... Mix the mica into the resin either partly or completely, again depending on the intensity of the color that you want to achieve. Once you're done mixing, the colored resin can now be used
Bundle includes five 8 gram jars of cosmetic grade Mica.